The Read Quebec Holiday Book Fair takes place annually in November
This free celebration of Quebec English-language books was founded in 2015 by AELAQ, in partnership with the Quebec Writers' Federation as a means of encouraging booklovers of all ages and interests to browse, buy and get books signed, just in time for holiday gift-giving. It has taken different formats over the years, beginning with in-person events, then moving online in 2020, and in 2021 adopting a hybrid in-person and online format. Whatever shape it takes, it always features a lively mix of Quebec-based authors and translators and their exciting new work. The hub for all things Book Fair is readquebec.ca – check it out for all the details on this year's selected books and related activities. We look forward to seeing you, virtually or in person!
---
2022 Holiday Book Fair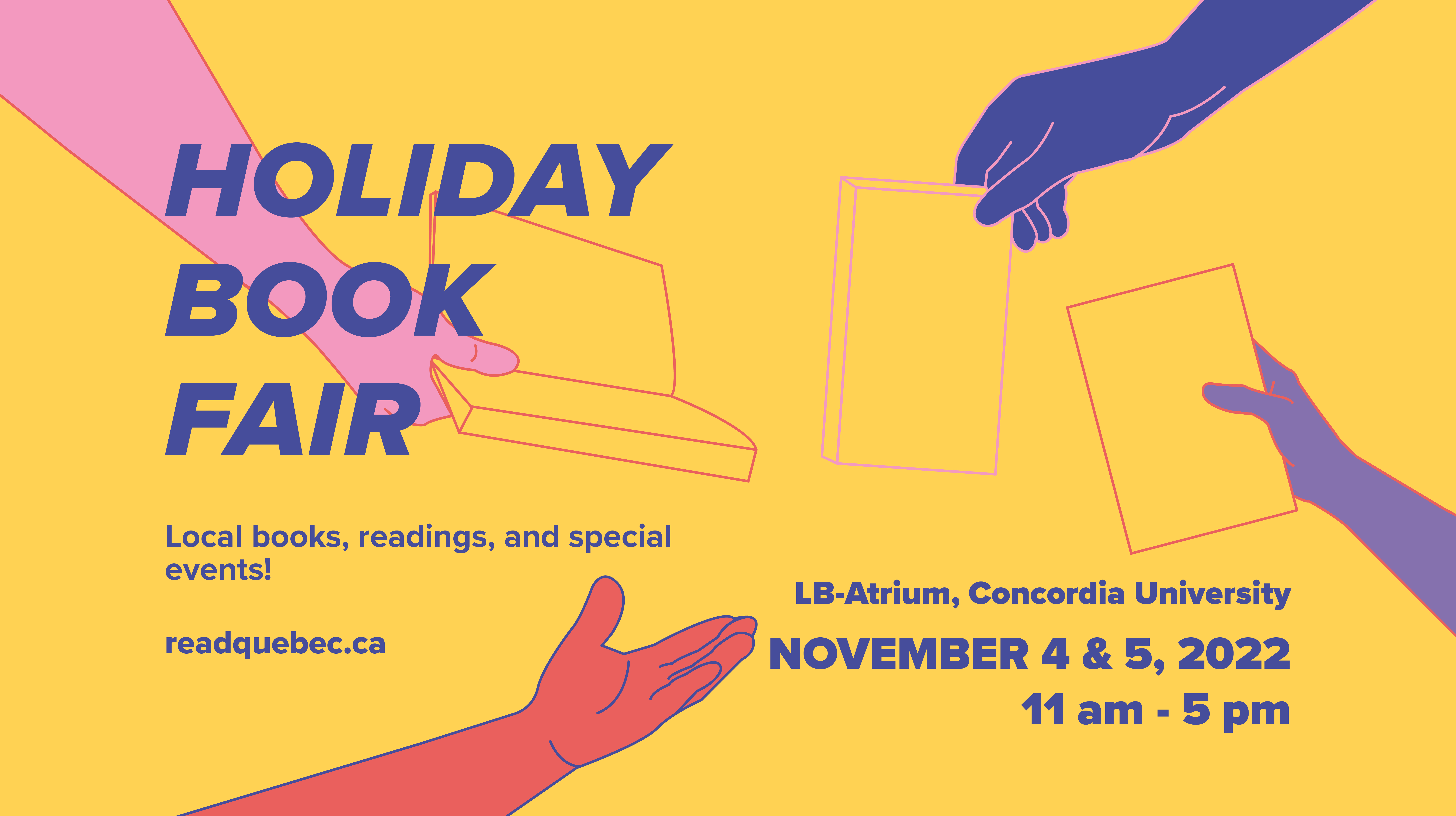 On November 2-5th, we offer a series of free events and activities celebrating English-language Quebec books and authors, culminating in two days of in-person book sales at Concordia University on November 4th and 5th 2022. Visit the Read Quebec website for all the details, and to find the perfect holiday gift for your loved ones amongst this year's exciting selection of books by AELAQ members and Quebec writers.
---
Book Fair FAQs
Who can participate in the fair?
Publishers who are active or associate members of AELAQ, and writers published by our members.
Quebec-based writers, illustrators, and translators who have published an English-language book with a non-AELAQ member since the previous year's fair.
If you are a Quebec-based publisher who is not a member of AELAQ, but you're interested in joining the association, please contact admin [at] aelaq [dot] org
If you are a Quebec-based writer, illustrator, or translator with a new book published by a non-AELAQ publisher, please contact admin [at] aelaq [dot] org.
Unfortunately we are not able to accommodate self-published titles at this time.
Who can attend the fair?
Anyone and everyone! It's free and open to the public.
---
Click the links below to read details of previous years' fairs.